Interested in Going Green? Here's How One Beaconsfield Resident is Living Sustainably
by
BW Group
on
Friday, September 30, 2022
With food and energy bills skyrocketing, do you wish you could be more self-sufficient? Well, it might surprise you to know that off-grid living is possible, even here on the West Island. We've contacted one Beaconsfield resident who's done just that, to find out more about sustainable living.
Wayne Markell has lived on the West Island for 30 years now. Descended from farmers on Prince Edward Island, you might say that growing produce and living off the land is in his DNA. However, Wayne doesn't need a farm to live this lifestyle. Indeed, his beautiful Beaconsfield property is set on an average sized lot. But what he's achieved is just astonishing, especially given the challenge presented by the harsh Quebec winters.
Vegetables and fruit galore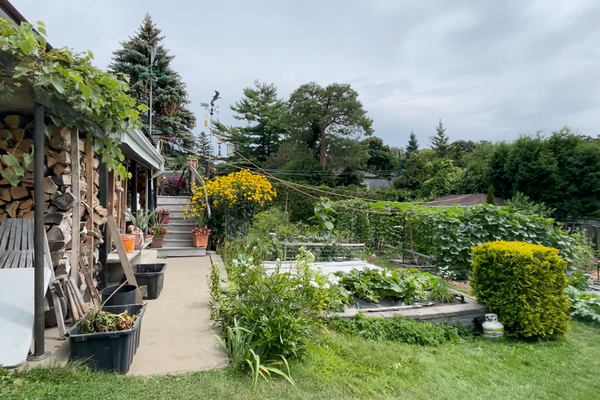 Wayne's backyard supports sustainable living
When you venture onto Wayne's property, the first thing you're struck by is the amount of planting. The backyard is packed full of wild trellises, neat vegetable plots, fruit trees and companion flowers. From apples, plums and strawberries to zucchini, asparagus, green beans, swiss chard, eggplant and tomatoes, Wayne's garden annually produces up to a staggering 2,000 lb of produce!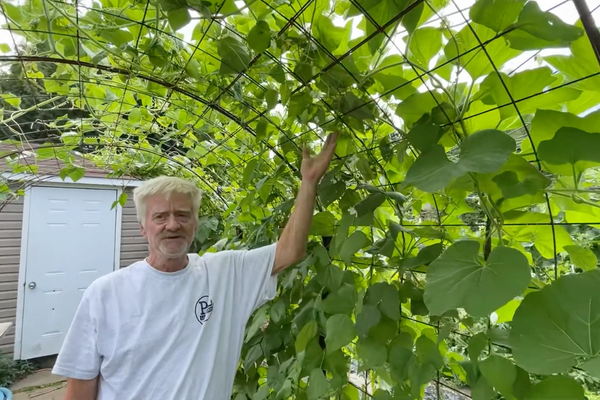 Trellises of produce abound
He doesn't limit his produce to these staples, either. As his wife is from the Philippines, he also has a keen interest in growing Asian vegetables, and even in our harsh climate he's been able to grow the following delicacies:
Upo

Kalabasa

Bitter melon

Okra

Sitaw red beans


Bok choy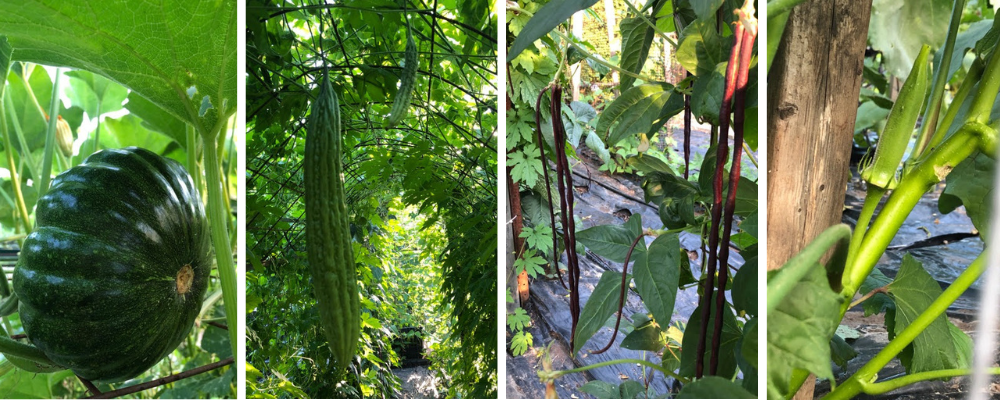 Kalabasa, Bitter Melon, Sitaw Red Beans and Okra
With so much edible planting, you might think that his backyard would lack colour. But that's definitely not the case, with delphiniums, dancing daisies, black-eyed susans, rhododendrons and even a Russian Giant sunflower adorning the plot.
Biodiversity for pollinators
This brings us to the next thing you'll be astonished by the amount of butterflies and bees fluttering and buzzing around the fruit and flowers. This is because the biodiverse planting makes this backyard a haven for pollinators; and as pollinators are essential for sustaining ecosystems, this is fantastic for the environment.
"The bees come from as far away as John Abbott College," he stated "And we even see Monarch butterflies, which is great because they're an endangered species."
Food donation
Wayne's not only self-sufficient when it comes to food, he actually has a surplus. However, nothing goes to waste, with Wayne donating fruit and vegetables to senior residences and the community food bank On Rock. "People rarely donate fresh food, it's mainly canned goods, so fresh produce makes a real difference at the food bank", he stated.
Focus on renewable energy
Sustainable living for Wayne extends way beyond growing produce. He's also installed a number of renewable energy sources on his property to lower his energy bills and water consumption.
Firstly, there are two sets of solar panels on the roof. This free energy not only charges up his cars, it also delivers electricity to the household; and to ensure a consistent supply, back-up power is stored in batteries.
The energy generated is also diverted back into growing produce, as the light and heat are used to propagate plants and seeds indoors, during the winter months. Solar panels in Quebec might seem impractical, given the amount of snow we experience, but in terms of annual production, they actually work really well. So well, in fact, that according to Wayne they were even creating energy during August's super moon!
Secondly, he's installed rain barrels. The water from these is not only connected to an irrigation system in the backyard, but it's also repurposed as 'grey water' within the house.
In fact, such is Wayne's dedication to his plants and the science of horticulture, he even has goldfish in the rain barrel used for watering his plants. Why, you might ask? Well, you can be sure we asked the same question! The answer is neat. Not only do the goldfish eat mosquito larvae, but their poop is also a fantastic fertilizer. Yes, you heard it here first!

Rain barrels full of goldfish
Wood burning in the winter months has also kept heating bills down, but with the new mandates coming into effect, Wayne commented that he'll have to find an alternative heat source. But given his ingenuity, we don't doubt that he'll come up with something innovative and unique!
Interested in getting started?
If you're starting out with your planting, Wayne recommends you start with tomato plants. These do really well, are easy to care for and you can expect a good yield. One tip though? There's a lot of wildlife that can hinder the home gardener, and squirrels in particular are partial to tomatoes. But they're not looking for food, they actually only want the liquid. So place a bowl of water next to the plants to quench their thirst, and they should leave your tomatoes alone.
In summary
If you're interested in a more sustainable lifestyle, and lowering your bills into the bargain, we hope this week's article has inspired you. As Wayne explained, "People didn't used to have the time for gardening, but with the price of groceries they're going to find time. Eggplants cost $5.99 each at local supermarkets, and I can grow more than 175 of them in just one growing season, so the benefits to your wallet are clear."
If you're still 'on the fence' then think about the other benefits of gardening. Not only will you know exactly where your food came from (no more looking out for supermarket recalls) but it's also great for your health and wellbeing.
As real estate brokers, we've seen all kinds of backyards, but this one was totally awe-inspiring, and we'd like to thank you Wayne for taking the time to show us around!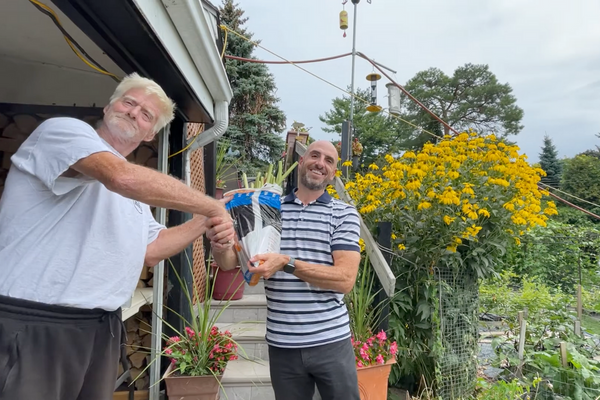 Wayne with our very own Sean Broady!