Expert tips on creating an outdoor oasis – from an Award-Winning Landscape Architect
by
BW Group
on
Saturday, September 24, 2022
Are you planning a redesign of your exterior property or landscaping? Read on for expert tips on how to make the most of your outdoor space.
Ah the power of nature. Soothing and calming, our outdoor spaces have traditionally been a place to relax and enjoy the sunshine. However, with hybrid working looking like it's here to stay, we're looking to maximize the usability of our homes like never before. This includes developing our backyards into more than just a lawn, or hardscaping with a pool. We're creating livable, multi-functional, aesthetically pleasing areas that are practical yet soothing for the soul.
If you're planning a landscape renovation it can be difficult to know where to start. You may have a wish list, but it can be a real challenge pulling the project together. Just as with the world of interior design, you also need to be mindful of what's in, and what's out, what are the best practices, as well as any local bylaws you have to adhere to. Consulting with a Landscape Architect will help you through this process, from design to implementation.
So, what are the key trends in landscape architecture for residential yards here in the West Island of Montreal? To help guide your decisions, we've consulted with award-winning Landscape Architect Stephanie Bonin, owner of Studio Bonin Design. Founded in 2005, this private Landscape Architecture studio is based in our very own Town of Baie-D'Urfé; the practice is built on referrals and combines a love of design and nature, giving beauty and function to outdoor spaces.

Read on to learn about what's trending for stylish, inspirational outdoor living...

Custom spaces
Just as we've seen a growing trend for closed-off workspaces indoors, according to Stephanie, "We receive increasing requests from clients for customized spaces in their backyards. Clients want to maximize the use of their lot and create their own backyard oasis that's not only practical, but also therapeutic to them. Whether that's by incorporating a lounging area with a fire pit, a designated yoga spot or a vegetable or flower garden, this is really about enhancing our outdoor experiences, and taking a more holistic approach to garden design."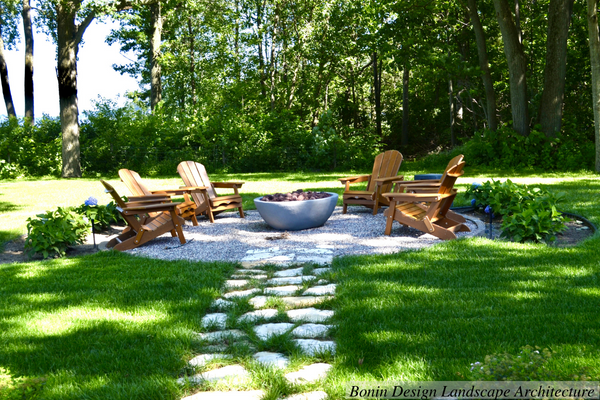 Focus on ecology
Ten years ago, the trend may have been to pave over large areas, but given the negative environmental effects of such methods, city bylaws have policies which now oblige homeowners to take a more ecologically conscious approach and maintain a certain amount of green and permeable surfaces. In turn, Stephanie states that most people are now far more ecologically aware and want to feel more linked with nature.
"Homeowners want to retain green spaces for children to play in or pets to roam, and the aesthetic and environmental impacts are well merited. We receive an increasing number of requests for low-maintenance, eco-friendly gardens that support the trend for sustainable landscaping. This can be achieved by including native plants which require less watering, flowering perennials, shrubs and trees to attract pollinators, using natural products (i.e. stone), and incorporating elements such as water features and bird feeders."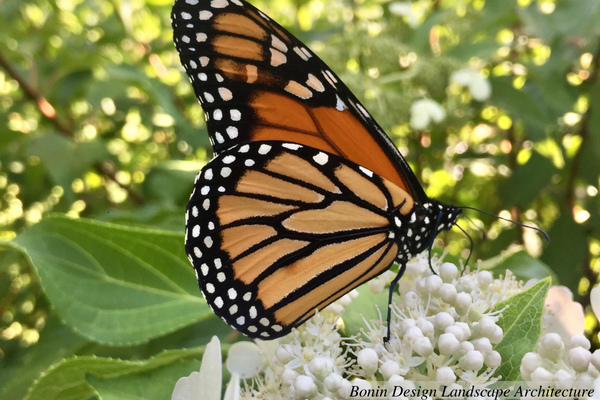 The drive for biodiversity is a hot topic right now. While people don't necessarily want their garden to return to a wilderness, they do want to integrate elements of biodiversity into their outdoor space. "This is about taking small steps," she stresses, "It's about finding ways to increase sustainability within a suburban environment."
Additionally, although city bylaws have developed over time to maintain green spaces and landscaping, lawn mower mandates actually have a detrimental effect on the environment. This is because while having an immaculate lawn might be aesthetically appealing, it's actually damaging to the natural ecosystem. In fact, according to a recent La Presse article, a couple in Saint-Bruno-de-Montarville is challenging the mandate to mow lawns to a 15-20cm height, as it's detrimental to the lifecycle of native plants and flowers, and hence impacts pollination. This is something to keep an eye on, that's for sure.
The push for permeable pavers
Another trend that's on the rise is the use of sustainable elements in gardens. "These include permeable pavers, which may be slightly more expensive to install, but they deliver numerous benefits. They're better for the environment as there's less water run-off, reducing the risk of flooding and limiting the pollutants that end up washing into the drainage systems", she quotes.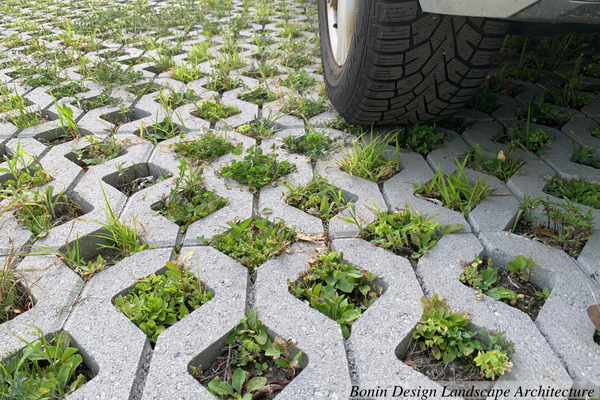 Outdoor kitchens on the rise
When it comes to alfresco living, Stephanie has also seen outdoor kitchens increase in popularity. "This is all about creating an extension of the kitchen, and where once the most we'd create would be a barbecue counter out of concrete pavers, people are now investing in custom cabinetry to deliver an elegant, sophisticated look." She continues, "Gazebos are also really hot items right now, and these can be purchased ready-made from high-end stores."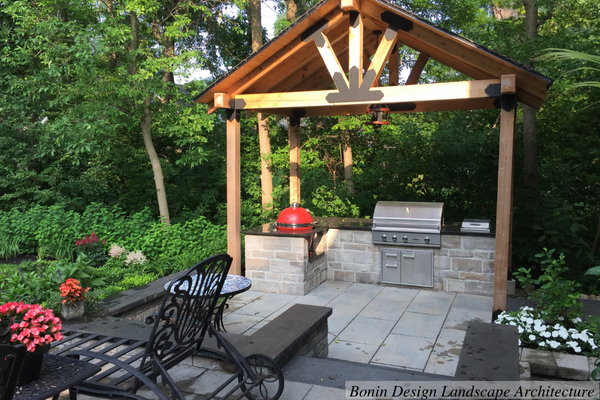 What's new for decks and fences
Mixed metals might be all the rage indoors, but Stephanie states that we're also seeing an increase in the use of mixed materials outside too. "There's an increasing trend for smaller raised decks made of composite or natural wood, with larger patios at ground level made of stone pavers," she explains. The driving factors for a patio area at ground level is the non-limiting space, the increased privacy and the interest of being closer to the vegetative surroundings.
"Additionally, more and more people are requesting low-maintenance fencing. This is typically made of aluminum or composite panels and can be lined to look like wood planks or corrugated in appearance."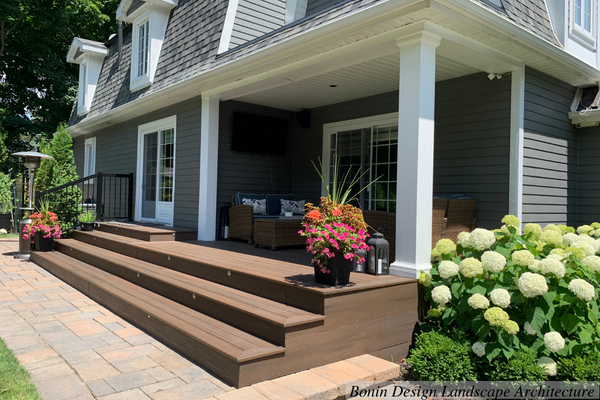 Pools are losing depth
We all know that Quebecers love their swimming pools. During the pandemic, pool installation requests were all the rage. The current pool trend is to forgo the deep deep-end and have a more user-friendly, shallower, continuous pool depth. Although liner and concrete pools are still very popular, smaller fiberglass pools are increasing in popularity for their affordability, ease of maintenance (no liner to replace or tiles to fix) and quick installation. In addition, their shallow nature means they require less water to fill or heat-up. This new breed of more environmentally friendly pools is rising in popularity, especially among younger buyers.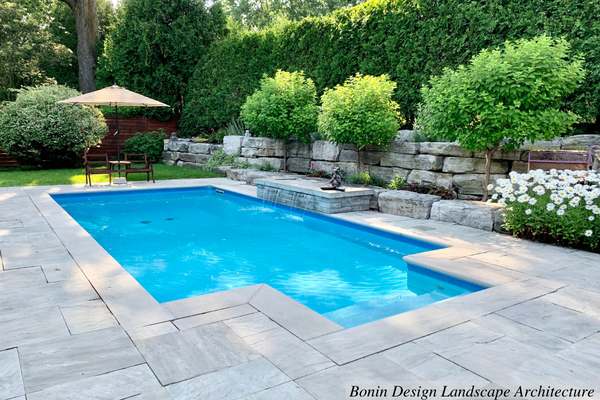 Quick and easy upgrades
Finally, we asked Stephanie what quick and cost-effective upgrades homeowners can do to improve the look of their outdoor spaces. Well, the answer is to focus on the front yard and to boost your curb appeal. As real estate brokers, this is definitely something we can agree with! Here are her top tips:
Update your walkway by re-laying old pavers or replacing with new ones

Refresh your front door

Trim or replace old shrubs

Create a new planting bed filled with flowering perennials

Place decorative pots with potted shrubs or ornamental grasses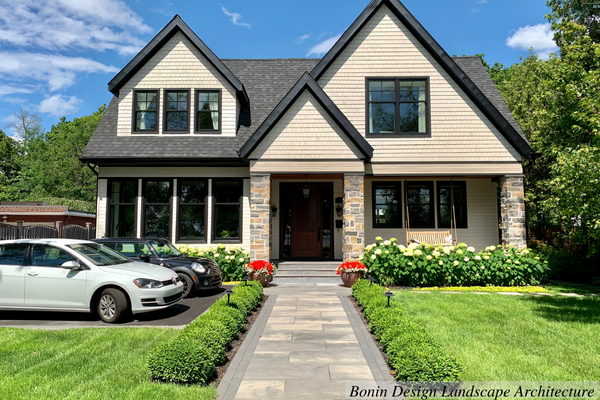 We hope this article helps guide you with your outdoor renovations. If you do decide to engage the services of a landscape architect, Stephanie also advises you to plan ahead, as it can take a minimum of 6 months to prepare for a major landscaping project. The consultation will begin with an onsite discussion to understand your wishes and interests and to determine the scope of work. The various steps towards completion include design implementation, bidding and city permit applications. We wish you the best of luck and hope you have a wonderful summer enjoying your beautiful outdoor spaces!